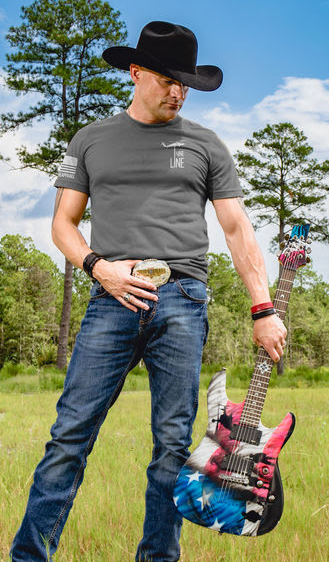 Ryan Weaver is a high-energy, All-American, rockin' country music artist who proudly served as an active duty Black Hawk Aviator, Chief Warrant Officer 3, United States Army. Weaver began his music career in 2005 while still on active duty, playing the club and festival circuit throughout the Southeast. His performances are known for their unique blend of high-octane original songs and rockin' cover material combined with a heartfelt message and genuine humor.
Ryan's personal story is like no other artist in country music today. Growing up with a family of eleven in a small town in Floral City, Florida, he joined the Army right after high school. After several years of working as a Military Intelligence Analyst, Ryan followed in the footsteps of both of his two older brothers, Steve and Aaron, by attending Warrant Officer Candidate School and flight school. He graduated top of his class in flight school, becoming a Black Hawk Aviator. In April 2003, he deployed to Baghdad International Airport in Iraq, and shortly afterward, one of his brothers, Aaron, was deployed just west of him in Fallujah.
On January 8, 2004, Aaron was killed in action when the Medivac helicopter he was a passenger in was shot down by enemy fire. Ryan certainly understood mortality and the risks of combat. After all, Aaron survived the bloody 1993 battle in Mogadishu, Somalia that became the basis for the movie, Black Hawk Down. When Aaron died, however, something changed for Ryan. He returned from combat, taking a new position training the next generation of Army aviators and officers at Fort Rucker, Alabama and has not piloted a Black Hawk since that fateful day.
Exactly ten years later, Ryan's brother-in-law, Chief Warrant Officer 2 Randy Billings, was laid to rest just one row away from Aaron Weaver. Randy was killed in action in Afghanistan on December 17, 2013 when the Black Hawk helicopter he was piloting was shot down by an enemy ground-detonated explosive device.
This second heartbreaking loss made the Weaver family a two-time Gold Star family. Ryan used his heartache as determination to succeed. Both of his brothers' ultimate sacrifices continue to fuel his fire to accomplish his dreams in music.
Ryan debuted on a world stage in November 2017 as the Patriotic Voice of the PBR (Professional Bull Riders) for their Celebrate America campaign. The World Finals is the biggest global stage in professional bull riding - a booming sport now seen in more than 400 million homes worldwide. Weaver made his debut in the primetime performance slot, held in 2016 by Aerosmith's Steven Tyler, at PBR's World Finals in Las Vegas, NV. Ryan's new EP also titled Celebrate America was released at that time. Ryan worked closely with hit songwriter and producer, Wynn Varble, on the Celebrate America EP as well as co-writing three of the four songs on the EP.
This January, Ryan kicked off the PBR's 2018 25th Anniversary Tour at Madison Square Garden in New York City. The Celebrate America campaign is a season-long initiative that honors heroes, inspires youth and brings communities together.