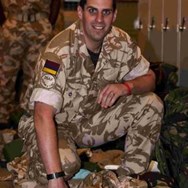 Sergeant Simon Harmer RAMC
Having served as Combat Medical Technician for the British Army in Bosnia, Iraq and the Congo, Sergeant Simon Harmer lost both of his legs in an IED blast in Afghanistan in 2009.
The manner in which he has approached these life changing injuries is truly exemplary. Whether you are interested in the British Army, the medical services or wish to hear a humbling yet inspiring story then Simon must not be missed.
Simon recently represented the British Armed Forces swimming team at the Invictus Games.